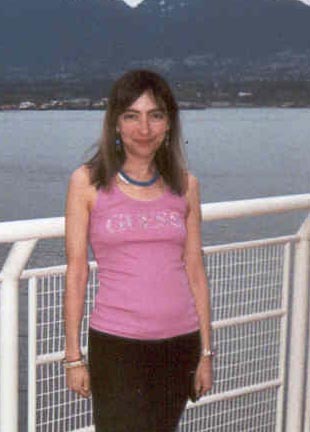 Even though I was sick most of April, I knew one thing. I wanted to go to Vancouver when my friend Nick was going up for business as I did last year. So, it set me on a one-week rehab schedule of walking every day (despite the pain) and getting out and about. By Saturday, I was ready for my trip. The bus ride was great, and before I knew it, we were almost downtown! I called Nick, and we met up at the McDonalds by Science World. I snapped a shot and had a caramel sundae (since we don't have them anymore). Yummy! We took the Skytrain to Burnaby where the Metrotown mall is and the hotel is, checked in, and wondered what we would do. After looking through a brochure, I saw CN Place and said, "I wanna go there!"

Nick looked up IMAX times and found that there was a Dinos in 3D showing at 8 pm, so we went to the mall and got some pictures in a booth done, took the train back downtown and ate at this cool Japanese restaurant that Nick had gone to during the week. He got sushi (which I tried, but didn't really like, I know, weird!) and I got a Bento box with tempura (first time trying that), and teriyaki chicken and rice, and miso soup and salad. All at very affordable prices! What Nick failed to tell me was that there were no utensils at this place, and I had to drink my soup slurping it down and eat my food with chopstix! Oh my! I did ok, and after the meal we walked down to the CN Place and took pics, then went to the movie (we actually got seating assignments on our tickets, another weird thing!) The movie was great, we took more pix, went to Tim Horton's (how could you not?) and called it a day.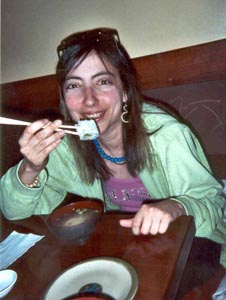 The next day, we invaded the breakfast bar! Super yummy! While watching weird Canadian cartoons, we ate muffins, cereal, juice, croissants, yogurt, it was great! It was soon time to check out and we headed for the mall again to do more trading card stuff, and famous New York Fries, and I tried a fruit buffet that was awesome. We then headed out on the SkyTrain again and got to Robson St. to look around and shop. I found this place called Steamrollers that served awesome burritos and had that, then got souvenirs for my friends and family, and headed back for more shopping at the coolest mall ever - Metrotown! I got this amazing red trench coat at one store, and before we knew it, it was time to go. =( Grabbing some Tim Horton's before we crossed the border, I realized that sick or not, I made it to Canada, and where there's a will, there's a way!
M