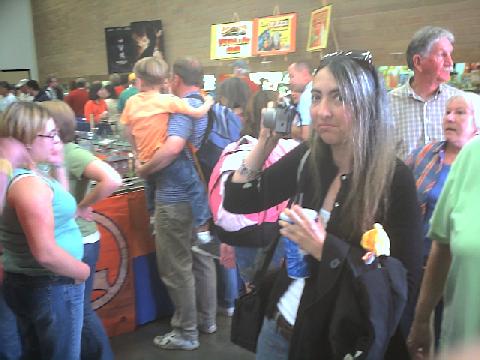 Do the Puyallup ! And boy, did I ever...between meeting Spongebob, seeing bands like the Turtles and Herman's Hermits, the Royal Canadian Mounted Police, and onion burgers, scones, nachos and this year, my first barbecue! It could all be had for two weeks in September and I enjoyed every minute of it.

My first venture to the fair I was accompanied by my friend Alex and right away we grazed over to the food court area - we both enjoyed the famous onion burger and our too-small straws. Then, we checked out the new exhibition area learning about squeegees and mops before checking out the hobby hall and the cool train set. I believe we got some dessert before Alex had to go to work, then my friend Nick joined me for nachos, funnel cakes, (yes, my stomach was hurting by now, but hey, it's the fair!) We made a button and did the photo booth thing and my infamous Tijuana photo and we also checked out ducks (Aflac!) and chickens. Soon, it was time to get scones and head out, but I would be back!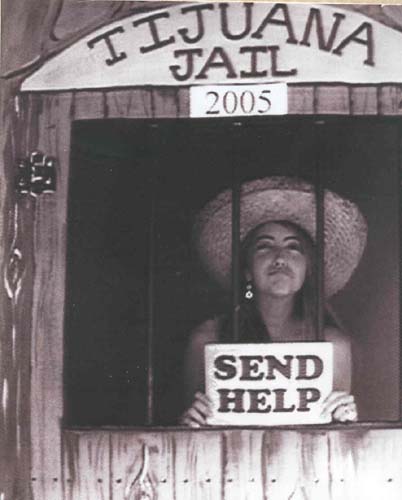 My next trip to the fair was with my mom and Nick and we had concert tickets for the Rock 'n Roll Legends show. I organized our itinerary to a T, but there were still pitfalls along the way. We started out early and checked the junior high and high school art show, (we check that every year). I voted on a photo this year as my fave and then we made our way to the new exhibit hall , (the 1000 pound pumpkin was quite a sight to see) and on our way to the hobby hall, we bumped into my cousin Samay and his family. What a treat! After a pic and an exchange of emails, dairy was on our minds as we made our way to the ice cream station and gorged on cones. Watching the rides, I was glad I wasn't getting sick on them.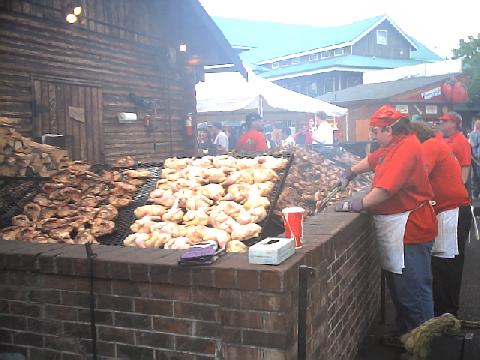 After our ice cream brain freeze, we tried to get into the Royal Canadian Mounted Police Musical Ride, but it was sold out, ( how can a free event be sold out?). We tried to sneak a peek through the curtains before an old guy busted us and it was time to leave...ahem...Another trip to Tijuana and it was time for barbecue. My first time with the sloppy stuff was indeed messy, but I loved it and relished the experience. Now, time for the concert!
Mom, Nick, and I filed into our floor seats, (which weren't that bad at only 15.00 each) to see The Grassroots, The Turtles, Herman's Hermits, and Tommy James and the Shondells. Mom became a teenager again as we watched each act. Songs I recognized from each band were - Grassroots - Tra, la, la, la, la, la, Live for Today, The Turtles - You showed me what to do, So Happy Together, Herman's Hermits -
, and amazingly Tommy had the most that were re-done with "I think we're alone now" and "Mony, Mony" and "My baby does the hanky panky". So, in one year I heard Billy Idol croon "Mony, Mony" and the guy who originally did the song. Surreal.

I loved transporting myself to the time of this music as much of it was so awesome and so 50's, innocent, melodic, you catch my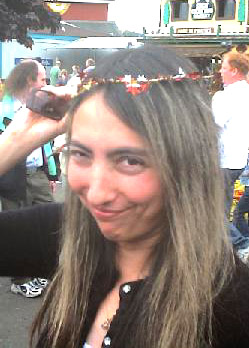 drift. Each band/artist signed autographs after their show, but mom opted not to get any, though she was swooning for Peter Noone of Herman's Hermits. Another trip for scones rounded out our night!

My last trip to the Fair involved a sponge. No, I didn't buy a squeegee at the new Expo Hall, but the coolest sponge on the block, Spongebob Squarepants! My friend Alex and I met up, (he was sporting awfully fetching homemade spongebob shorts), and we made our way to the spongeline. There were the usual kids and parents, so we stood out like two sore thumbs.lol None the matter, we made our way to the front of the line, thinking about throwing tantrums and seeing what would happen. Alas, we didn't, but made our way for our picture. Meeting spongebob in the spongy flesh is quite a thing. He really is that soft and squisy and super absorbent! After we got our pic, we went for ice cream and lunch and the RCMP Musical Ride!

It was so good to finally get in after being kicked out before. ;) The horses were amazing and it was a packed house. Alex left after that for work and I met up with Nick again and saw the RCMP ride again! Not as packed this time, but just as good. A few more scones and I was pretty pooped from the Fair. But yes, I had a wild time and I won't forget it!

Mariam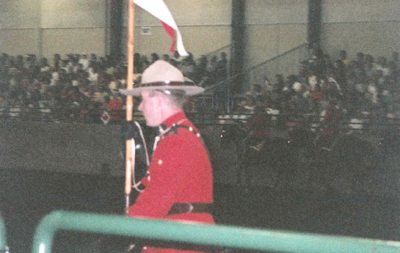 Note - I have waaaay more pics of the fair, but they have turned up missing, so once I find them, you will see more of the Puyallup!