Home Friends Links Entertainment Where's Mariam? Reviews Contact
01/19/2005
Let's Get Funky With Prince!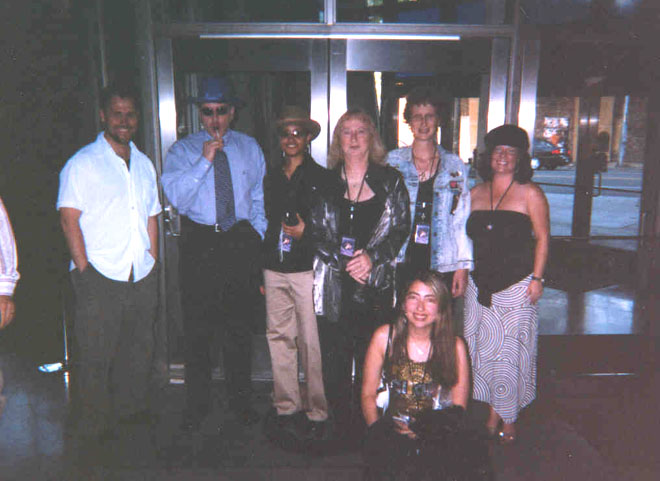 The purple crew works it at EMP!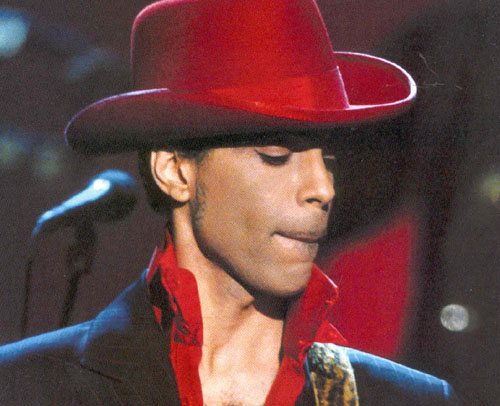 You want to get out the funk? Or do you need a little help in getting funky? Whatever you choose, Prince is the guy for you. And his two-night stint in Seattle was one of the hottest tickets in town! Could August get any hotter? I think not!

First things first, I was going to hit both Prince shows thanks to my good friend Jennifer, (who helps to run the NW Prince fan club), and she scored great seats, but one of my fave bands, The Cure, rescheduled their show to the 31st and I chose to see that as well. Still, one night with Prince is a pretty exciting thing and I needed an exciting outfit to match. I had selected some low-slung black pants I had bought at the Bon plus a gold "glam" top I got when I was in California. I found a cool yellow Prince pin at a record shop and took my leather jacket from Los Angeles to top it off. Could I have been one of Prince's gals? You just never know!

I had to work during the day, but many people I worked with were also going to the show! I convinced one lady on the fence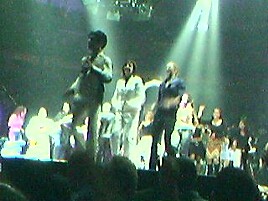 to not stay home that night and get funky! (The next day, I found out she got seats near the floor! ;)) As the time approached, I called my friends Jennifer and Dorothy and new friend Kim to track our coordinates. The show was at Key Arena and we had a pre-funk meet going on at EMP. As these pictures show, we were quite the group! EMP (Experience Music Project) played numerous Prince videos and songs to get us all in the spirit of things. I changed into my "hottie" outfit and met up with Jennifer who scored 6th row floor seats from the fan club. I also met up with my friend Lorne from Canada as he got his tickets. Everyone was excited in the venue as many fans knew what kind of show they were in for from the Staples Center live broadcast in the Spring. Armed with our Musicology CD's and our programs, we waited patiently.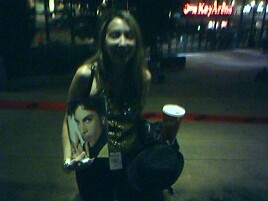 Lights dimmed, fans screamed, and a montage of Prince mania hit the screens above us. From the 6th row, you really can see a lot. With no row behind us, Jennifer and I were treated to the ultimate surprise - Prince himself! Or rather in a box rolled in behind us, while the band - Maceo, Candy and others- all walked behind us too. I could not believe that! The music began and Prince appeared - wow! Singing Musicology, he got everyone on their feet. I never saw a single seat used after that as people boogied to the music. Hits followed like "Let's Go Crazy" in which purple streamers few everywhere, "When Doves Cry" and "Baby, I'm A Star". Prince also had an acoustic set where he got us by expecting us to sing and saying, "It's all live!" He even mentioned moving to Seattle - we'd love to have you! The end of the night brought the ultimate song - "Purple Rain" and a feel-good vibe that could not be squashed.

Prince went back in his box to leave and as the band went by, I boldly put out my hand and shook Maceo Parker's hand! I also grabbed a purple streamer which now sits atop my computer. Thank you, Prince, for a wonderful night! Thank you to Jennifer, Dorothy, Kim and Lorne and everyone else who made it all so much fun!


my purple streamer!
Now get the funk out!

Mariam

Powered by erocs.org