Mariam's Work History
(I've been around the world, well, not literally)

Quite a few people have brought up that I never talk about my work history on here, only what I do for fun. Well, I do work cause all that stuff costs money.lol Without putting together a resume for you, I will tell you a little bit about what I have done through the years to make ends meet.

I started out in the work world in the same place that many people have - at Mcdonalds! I was a cashier for 4.00 an hour and to me, that was big bucks! I worked there almost a year and a half before focusing on my senior year of high school. Once I graduated, it was time to make some moolah of my own so I went to work where my mom worked - at the Holiday Inn by the airport. This was right around the time espresso was getting big (1991-2) and I was a barrista as well as a gift shop girl there. I didn't even drink coffee but I made awesome coffee drinks (everyone said so.) I was there two years before leaving to work at the airport for Seattle 's Best there, (they just had a cart back in those days).

After developing a back problem there, (we had no mats), I took some time off and then got a job back at Southcenter Mall in a Hallmark type store which was lots of fun, (I loved reading through all the cards.lol).
Deciding to pick up some hours, I also took another job at the mall at the Musicland store, (now Sam Goody). I loved both jobs and all the interaction with people, but at xmas time, I had to choose so I chose the music store, of course. ;)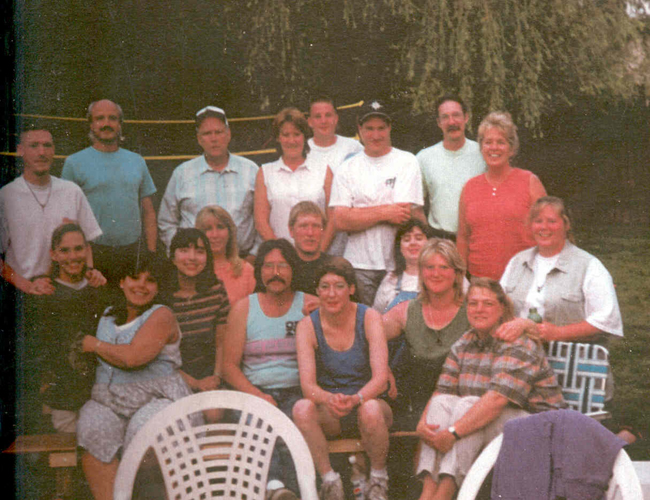 The crowd at Furney's Nursery - can you pick me out?

I worked at Musicland for about two years and loved being behind the scenes on the business end of things. Sometimes artists would come in to hype their singles which was very cool. I loved organizing and putting out the merch, and I often got free CD's, (I still have a Musicland in-store promo CD) and I got free Madonna goodies too! Sadly, the money wasn't enough so I moved on to somewhere nearby - the nursery up the hill from me!

It was 7.00/hr and so close to home that it worked well with my college schedule. I was there off and on for four years, but in between (around 1998), I took a job back at the airport doing accounting for HOST services. Though I had no experience in accounting, I stayed there for a few months and tried my hand at it (math is not my strong suit.lol) After that, I went back to Furney's and in the summer of 1999, I took an internship with festivals.com for my Interactive Media degree.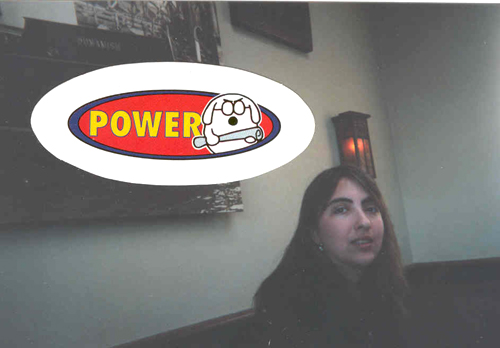 I think I was eating somewhere or in the elevator at festivals, but it was quite a dream job!

This changed my professional life forever. I started the internship paid at 9.00/hr and with no skills in the dot-com world, I forged ahead, full speed. I learned so many things there that it's too much to mention - you will have to ask me. Needless to say, I was hired on in the fall of 1999 full time thanks to the dot-com boom. I worked there for two and a half years and saw all kinds of stuff - I reported on festivals and local events, maintained three different websites, an online newsletter, an upcoming performers directory, and I even did a little HTML! I was fast becoming enamored with computers and I really loved my job so when we were laid off in November 2001, it was quite a blow.

I got unemployment and become one of Seattle's many unemployable. I hated sitting around, so I volunteered for Ladyfest for a year and a half and help put together that five day event that happened in March 2003. By that time, I had had one temp job in Bellevue for HouseValues.com just doing data entry and got another temp job at a law firm helping clean up documents online. I still got through the event even though being a volunteer coordinator without a car is very interesting.lol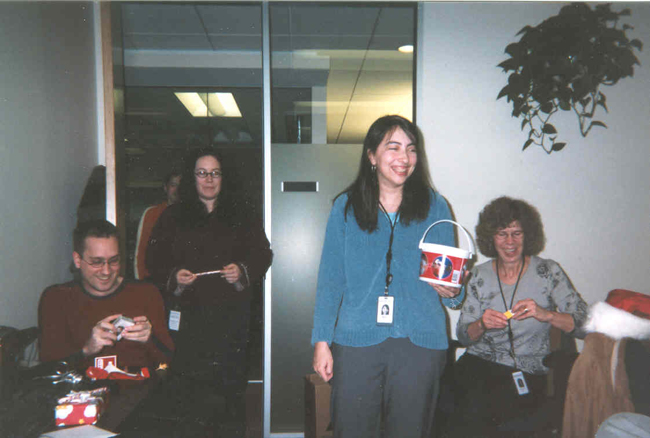 At PGE, I had a great time with our tiffing crew! This was our special holiday party, put on by me!

With that done, I continued my work at the law firm making some great friends along the way. But our jobs ended at the end of the year and I was out of luck. Running out of unemployment made me take odd freelance gigs here and there until another law firm took me for a month in early 2004, then another quick temp assignment and I was back to PGE for a few months until they let me go in the summer (talk about ups and downs!)

I signed on with a new agency (The Watson Group) and got a one-week gig with the City of Seattle . It is now a year and a half later and I still there - love the job and hoping it can go permanent. I've come a long way from McD's! But that's my history and I am proud of it!

Mariam