My 32nd birthday party at Chuck E. Cheese!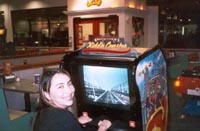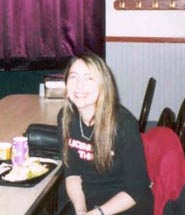 So many of my birthdays have come and gone, (and at 32, that is a lot!), and I hadn't done anything too exciting with them. (On my 21st birthday, I had gone to a Star Trek convention and for my 30th, I saw the new Bond film, Die Another Day, with a group of fans cause Madonna was in it). This year, I decided to make my dream a reality. I was going to have a Chuck E. Cheese birthday party! 32 seemed like the right time to do it too. So, I sent out e-mails to over 30 people to see who could make this shindig.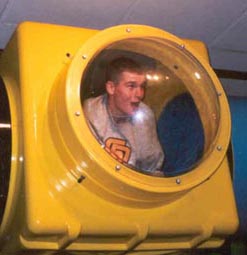 I picked the Chuck E. Cheese in Kent, close to my home and about 7 of my friends turned out for the evening, which was a whole lot of fun! We started out ordering our pizzas and chowing down while we watched a rather lively stand-up, song-and-dance revue from an animatronic Chuck E. at the front of the restaurant. As folks became restless, they made their way to the big toy where you could easily get lost in the labyrinth of tubes, slides, and stairs. I ordered dessert pizzas and tried my hand at a few games. I loved the mish-mash of current games and old vaes like skee-ball and such. Dessert pizzas came, and suddenly, in the distance, I saw Chuck E. Cheese himself!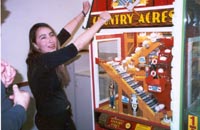 He came to sing me happy birthday and really made my night. By this time, most of the kiddies had gone and me and my friends attacked the kiddie section with reckless abandon. My jaunt into rides that were much too small for me did make me feel like a kid again, a plump kid, but still a kid. ;) As the evening came to a close, we tallied our tickets and traded them in for stickers, candy, and the like. Before we could take off, one kind-hearted employee stopped me to give me my very own Chuck E. Cheese toy. I won't ever forget this wonderful night! Thank you to Jack, Nick, Steve, Roger, Joy and Jeremy for making it so fun!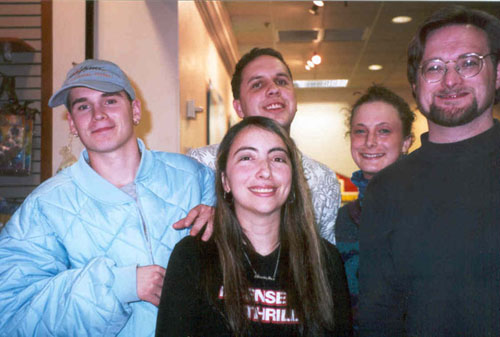 Mariam